Mudfish Launcher
Introduction
Mudfish Launcher is a simple application for users who are first or not familiar to use Mudfish Cloud VPN. This program is working as a simple reverse proxy and based on HTML and HTTP protocol instead of native UI because Programmer, Weongyo Jeong, has no knowledges about how to implement.
Thus all operations to set up Mudfish Cloud VPN happens on your internet browser (Internet Explorer, Chrome or Firefox).
Sign in
When Mudfish Launcher is executed (for Windows Vista/7/8 users, it should run as Administrator), it'll let your desktop open default browser to open and navigate to Mudfish Sign-In form as follows: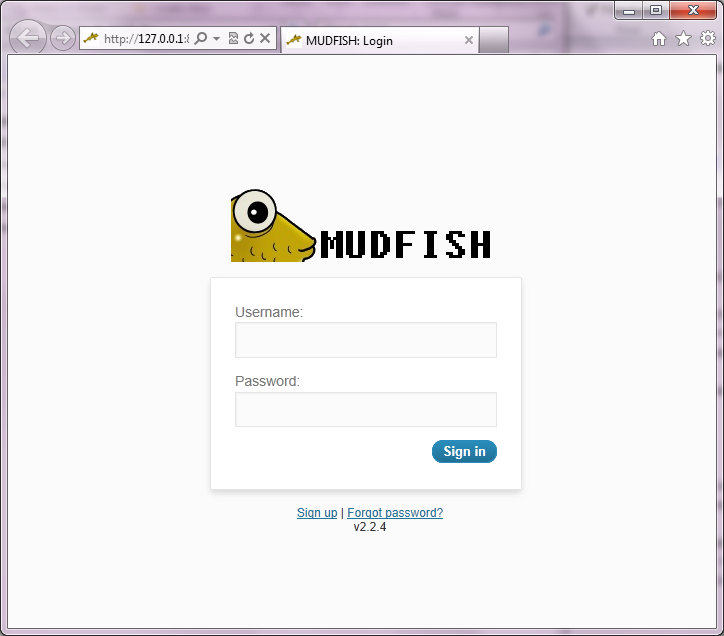 Sign in with your username and password. If it works without any issues, you can see the dashboard.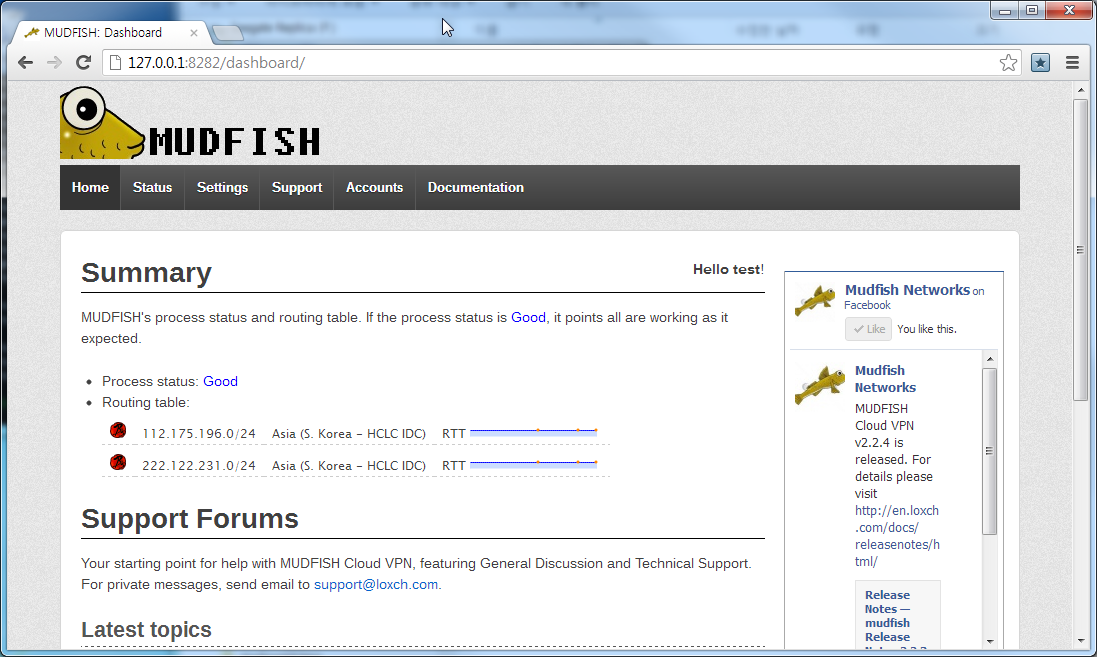 OK. It's ready to use Mudifsh Data Centers.
Quick Setting
Note
New users should read all other sections of this document as it gives a better overview about how to use Mudfish Launcher. This 'Quick Setting' section is designed for experienced users who just need a checklist to follow.
This guideline is to show you how to set the routing path for World Of Tank whose game server is located at North America.
Clicks 'Settings -> Wizard'.
At step 1, select 'World Of Tank, World Of Warplanes' then click 'Next' button.
At step 2 (final step), select one of Mudfish VPN servers which you want to detour and then submit it to add your request on the command queue.
It's done. Please double check whether your setting is applied to Mudfish Core program by visiting 'Status -> Routing Table'.
Now it's time to start your game.
You don't need to set your routing pathes again because it's loaded automatically at Mudfish Cloud VPN boot-up unless 'Save the routing table' option which is available at 'Settings -> General' turns off.